Wage Slave Auction
If you would like to auction your particular skills
in our unique venue, let us know. If you would like
to bid on one of our workers of no choice,
"skilled to do your job",
find Uncle Scam in Harvard Square.
For the treat of a lifetime


Sundays 2 to 4 pm

until we sell them all, at least once
buy in bulk for your conservative tax breaks.

Just another wage slave in the American economy.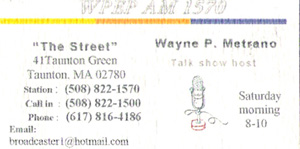 Wayne P. Metrano has been a supporter for many years

A.R.T.O.
the Deacon Blue show
Uncle Scam
Blue Puppet Theater